Espresso Rubbed Wild Boar Ribs with Huckleberry BBQ Sauce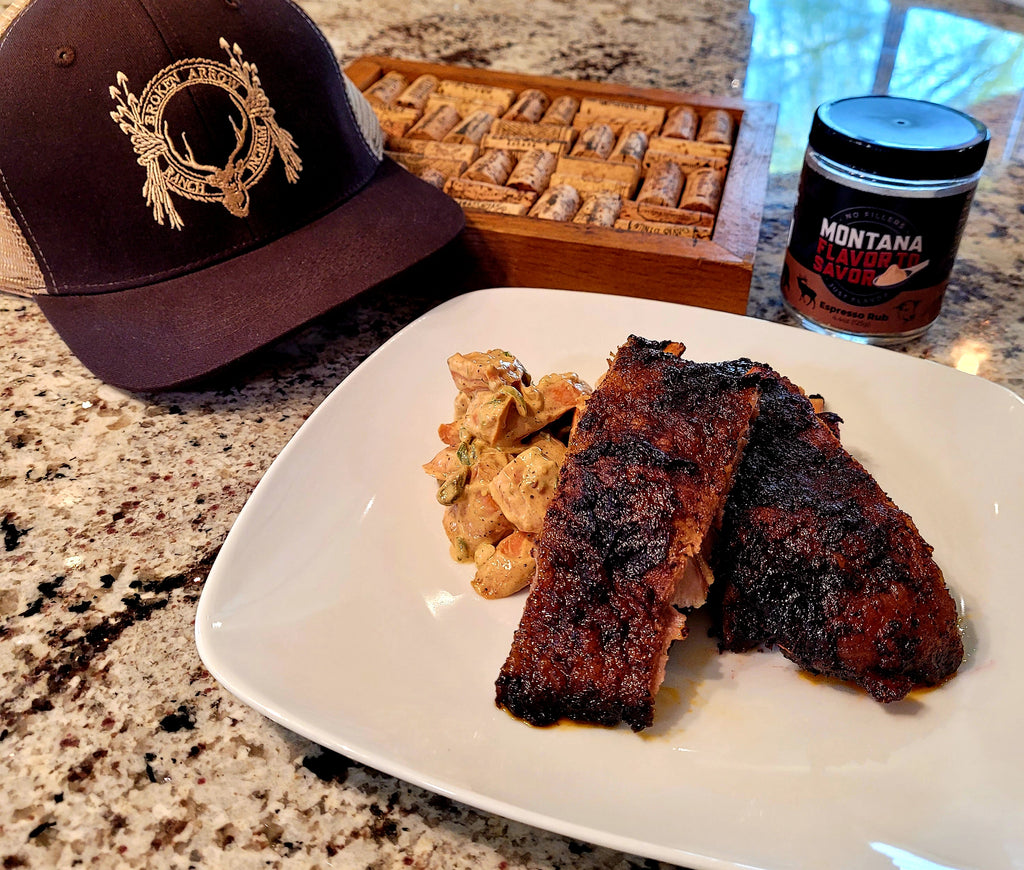 In this episode of "Shelly's Game Kitchen" Chef Shelly Meyer and Broken Arrow Ranch Owner, Chris Hughes, make espresso rubbed wild boar ribs served with huckleberry BBQ sauce and a creamy roasted carrot salad.
Wild Boar Ribs
Ingredients
2-3 lbs Broken Arrow Ranch Wild Boar Ribs
1/3 cup Montana Flavor to Savor Espresso Rub*
*Spice Substitute:
2 Tbsp ground espresso beans
1 Tbsp garlic powder
1 Tbsp kosher salt
2 tsp brown sugar
1 tsp chili powder
Preparation
Remove wild boar ribs from packaging and, using a butter knife and paper towel, remove the tough membrane on the back of each rack.
Season both sides of the ribs liberally with the espresso rub. Place seasoned ribs in a pan or tray (slight overlapping is fine) and cover with plastic wrap. Place pan in refrigerator and allow to dry brine for 4 hours and up to 24 hours.
When ready to bake, let ribs come to room temperature for 30 minutes. Preheat oven to 350°F. Place the ribs on a foil lined sheet pan and cover tightly with more foil. Bake for 90 minutes.
Remove ribs from oven and turn the broiler on. Remove top foil and glaze the top of each rib rack with BBQ sauce (suggested recipe follows). Place uncovered, glazed ribs under broiler for approximately 2 minutes or until caramelized. Watch carefully to prevent burning the glaze.
Slice ribs between the bones and serve with extra sauce.
Huckleberry BBQ Sauce
Ingredients
2 cups Huckleberries, frozen (or substitute blueberries)
1/2 cup Dark brown sugar
1/4 cup Water
1/4 cup Balsamic vinegar
4 Tbsp Chipotle in adobo puree
1 Tbsp Whole grain Dijon mustard
1-1/2 cup Ketchup
Salt to taste
Preparation
In a small saucepan, add berries with any residual liquid along with sugar, water, vinegar and chipotle peppers with puree. Bring to a boil. Reduce heat to simmer and continue cooking until berries have burst and a re macerated.
Blend until smooth.
While sauce is warm, run through a sieve to strain seeds. Add remaining ingredients. Taste and adjust for seasoning.
Let sauce cool. Use as a glaze for ribs or refrigerate for later use.
Sour Cream Roasted Carrot Salad
Ingredients
6 ea Carrots, large

2 Tbsp Extra virgin olive oil
2 tsp Montana Flavor to Savor Espresso Rub, divided*
1/4 cup Sour cream
2 Tbsp Balsamic vinegar
2 tsp Apple cider vinegar
1 Tbsp Whole grain Dijon mustard
3 ea Scallions, white and green parts, chopped
1/4 cup Pistachios, chopped
2 Tbsp Fresh dill, roughly chopped
Salt and pepper to taste
Preparation
Preheat oven to 400°F.
Peel and cut carrots in 1/2 to 3/4 inch oblique cuts. Toss with olive oil and half of the espresso rub. Spread onto sheet pan.
Roast carrots for 20 minutes total, flipping the carrots after 10 minutes. You still want a tooth to the carrot so test by piercing with a sharp knife. When the knife goes in without resistance and carrot stays connected to knife then releases with a gentle flick, they're ready. Remove from oven and let cool. (TIP: If the carrot does not lift up with the knife after pierced, they've cooked too long - but can still be used. Adjust timing for next time.)
Make the dressing by combining sour cream, vinegars, Dijon and remaining espresso rub together.
Mix the chopped scallion and pistachios with the cooled roasted carrots and fold together with just enough dressing to coat ingredients. You don't want it soupy. Fold in the fresh dill. Taste and adjust for seasoning. Enjoy this as an alternative to potato salad.
View more Shelly's Game Kitchen episodes, and learn more about Chef Shelly Meyer.