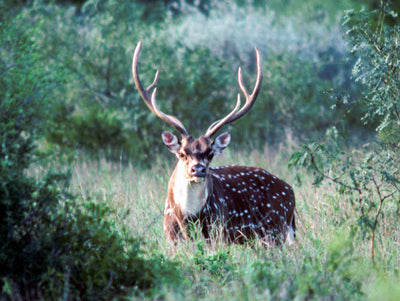 Axis venison is considered by many to be the finest venison in the world. A native of India, the Axis deer was introduced to ranches in the Texas Hill Country in the 1930's. There are now over 150,000 Axis deer in Texas. We harvest about 800 a year for meat. The Axis is, without any doubt, the most beautiful deer in the world. As a mature deer it has the same spots and coloration of a young deer fawn.
Here in the Texas Hill Country the Axis deer is considered the universal favorite. The meat is finely textured and tender. Their diet consists of about one-third grass and a combination of wild herbs and tender new growth on brush and trees. Other than their native habitat in India and Nepal, Axis grow in significant numbers only on the island of Lanai in Hawaii (where they were introduced over 100 years ago as a gift to the King of Hawaii), on a few deer farms in Australia, and on ranches here in the Texas Hill Country. This makes it one of the rarest of all venisons available for purchase.
Axis Venison - Special Meat For Special Occasions
Here in the Texas Hill Country, many ranchers raise a wide variety of non-native deer and antelope. Almost all of them agree that the meat of the Axis deer is the best-tasting and most tender of all. The next time you are asked to select the best possible venison for a special event, call us and let us tell you about our Axis Venison. Our Axis are harvested as free-ranging animals which produces a rich, tender meat that reliably pleases the palate of even those who think they don't like the taste of venison. Our customers tell us that our Axis leg fillets taste better than foreign venison loin.