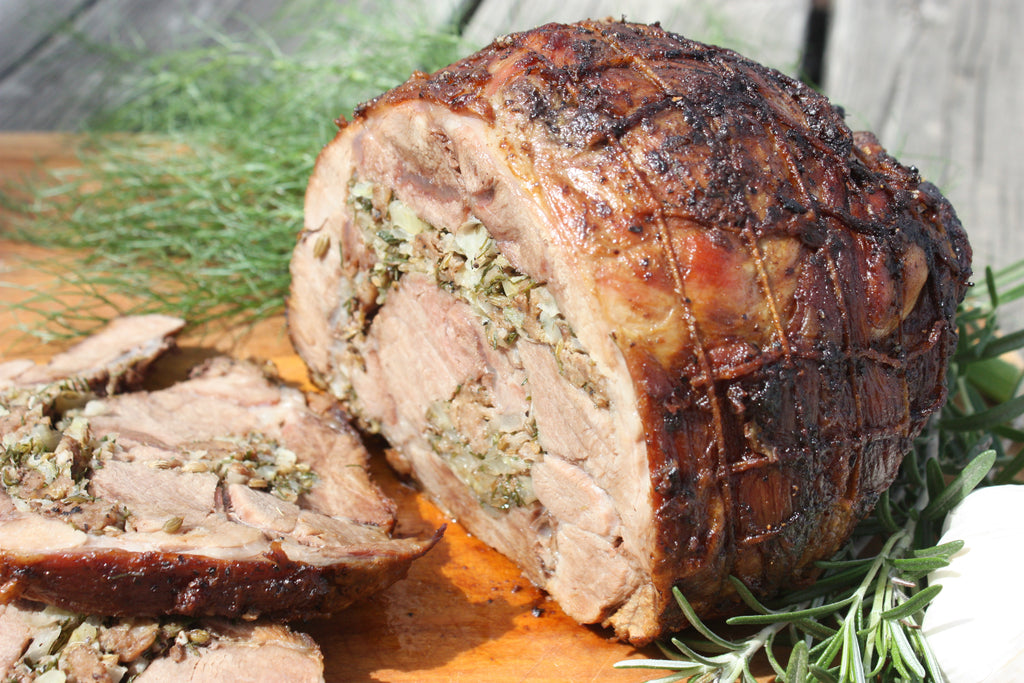 Ingredients
4 lb Broken Arrow Ranch Wild Boar Shoulder Roast or Rolled & Tied Leg
4 Tbsp olive oil
1 onion, thinly sliced
1 fennel bulb, thinly sliced
Fennel leaves, chopped
0.75 lbs (1 pkg) Broken Arrow Ranch Wild Boar Italian Sausage
2 Tbsp fennel seeds
2 Tsp ground pepper
2 Tbsp fresh rosemary, chopped or ½ Tbsp dried rosemary
6 cloves garlic, chopped
2 eggs, beaten
Salt and pepper, to taste
4 cups vegetable mix, coarsely chopped (onion, celery, carrots, parsnips, etc)
4 Tbsp butter, melted
4 Tbsp olive oil
Wild boar will come wrapped in netting. Cut one end of netting and remove wild boar. Keep the netting to re-wrap the wild boar after stuffing it. Unroll the wild boar so that you have a flat piece of meat and set aside.
Heat olive oil in a large sauté pan over medium-high heat. Add sliced onion and fennel. Cook until onion is soft and translucent. Add Italian sausage, fennel seeds, ground pepper, rosemary, and garlic. Cook about 10 minutes, stirring frequently so garlic does not burn. Allow mixture to cool then mix in chopped fennel leaves and eggs.
Preheat oven to 350°F. Spread mixture over one side of the wild boar then roll it up. If possible, stretch original netting back over wild boar and secure cut end with butcher's twine. Otherwise, tie the roll with a truss of butcher's twine. Spread a vegetable mixture on bottom of roasting pan. Use a mix of sturdy vegetables to keep wild boar off of the bottom of the pan and that will taste good when roasted. Set wild boar on top of vegetable mix. Roast in oven until internal temperature reaches 150°F, about 2 to 2 ½ hours, basting every 20-30 minutes with melted butter and olive oil mixture. Let meat rest for 15 – 20 minutes, slice thickly and serve.
Serves 6 - 8. Recipe can be scaled for larger or smaller roasts.
Broken Arrow Ranch
Chris Hughes